Samsung Smart Blu-ray Player with Built-in WiFi and Streaming Apps (Refurbished)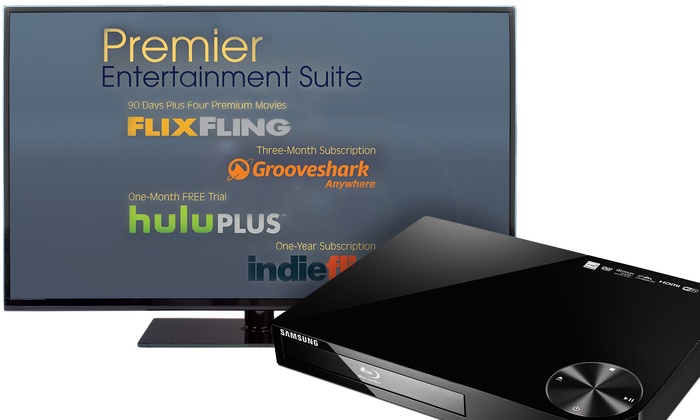 Samsung Smart Blu-ray Player
This Blu-ray player expands home entertainment options by playing discs and streaming content over WiFi.
Stream Movies, TV Shows, and Music
Watch shows over Netflix and Hulu Plus, listen to music over Pandora, and even connect with friends on Facebook. More than 10 apps stream a wide variety of entertainment, so you can relax on the couch instead of hike to the nearest movie kiosk. Built-in WiFi and Ethernet let you make a wired or wireless connection to your home Internet.
Play Blu-ray Discs, DVDs, and CDs
Continue enjoying your favorite movies, even if a large part of your collection is on DVD. Both Blu-ray discs and DVDs send images to your TV in vivid color and razor-sharp contrast thanks to HDMI output.
This Blu-ray player slides right into home theater systems with up to 7.1 surround sound. Multiple forms of Dolby and DTS audio decoding support multi-channel output, making movies, TV shows, and commercials asking if you've ever been injured in an accident feel more realistic with 3D sound.